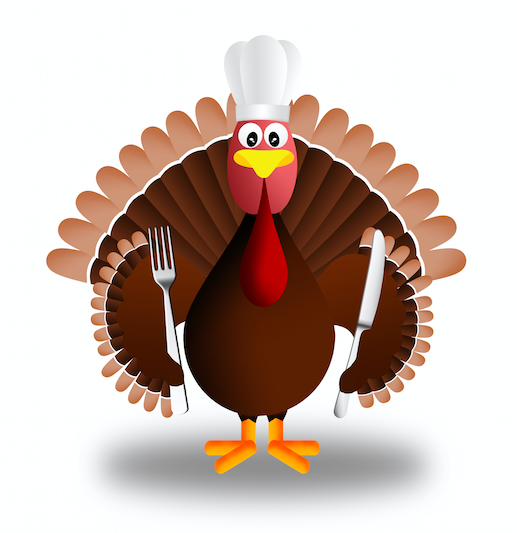 It's that time of the year. The thought of family, friends and of course-the perfectly resplendent, cooked to perfection turkey beckons us. Yes, we have our game face on! (in the spirit of festivities, pun has been somewhat intended). The happy cheerfulness in the air induces you to dive right into prep mode. You are excitedly looking forward to draft 'to-do' lists, zero-in on the best supermarket to source the freshest piece of turkey and the most popular drinks/cocktails.  Along with planning all the trips to your local grocery store and stocking up the pantry, pause to think if you can utilize this break to refine your job search strategies and overall career plan.
Capitalize on the opportunities available to you this Thanksgiving season:
Indulge in assiduous planning: In addition to planning the feast for the D-day, recognize the value of this additional time available to you to clearly define your career goals and specifically-your job search objectives. Whether you are poised comfortably in your current job, considering of making a career pivot or entering the job market after a sabbatical, you should strive to search for the job that best fits your skills, values, accomplishments and long-term career goals. This holiday break can serve as the perfect time to curl your feet beside the fireplace and mull seriously over the industry, companies and places you should target to progress confidently on your desired career path.
Make the process of job search– your job: Job search is one of the most vital components of strategic career planning. When you attempt to target a particular position, whether at online job boards or through referrals or through your network, ensure that you are absolutely clear on the qualifications, skills and responsibilities entailed in the job description. It is on the basis of this firm understanding, that you can identify the keywords specific to the job and your experiences and eventually incorporate them in your resume. While applying through online job boards, referrals and HR consultants has its own merit, do not forget to explore the career portals of companies for those obscure job openings that may appear extremely relevant to your profile. Again follow all instructions as detailed on the site before hitting 'submit'. Be on the lookout for essential 'must-haves' like location and explicitly state that you would not mind relocating.
Tailor your resume: Make use of the time at your hands to craft a resume draft that is perfectly focused at answering all requirements of the job you are applying for along with highlighting your achievements. We are past the time, when we could shoot the same generic resume draft for 20 different job positions. Each and every job opening has a unique requirement. Use this time carefully to discern that unique expectation. Do not merely state what you did, instead create a sequence of your experiences reflecting your contribution and the resulting impact.
Diligently work towards incorporating the relevant skills and accomplishments in your resume. Explore the VMock platform to learn how you can add impact through your resume content. Recruiters have a few seconds to skim through your resume, make them thank their decision to stop over yours.
Research and Network: Undertake thorough research to learn of current and upcoming trends pertaining to your industry or professional field of interest. Look up interesting and educational insights about the company you want to target that lends you an idea about the strategic factors governing recent decisions. These pieces of information can keep you in good stead once you land yourself an interview with the company. Set google and news alerts about the company and industry you want to direct your job search at.
This holiday season is really the best time to push your networking effort- full throttle. Get in touch with your connection of alums, colleagues, former bosses and coaches. Extend warm wishes of the holiday and strike up a conversation about their current professional pursuits. Draw a parallel with your current career status and see if you can learn of any contacts that would help you get a stronger foothold in your preferred industry or company. Check if any holiday events, dinners, panel discussions, seminars, webinars are being conducted by the different professional associations that you are a member of. Seek memberships of other such industry associations during the holiday season. You really never know who you would run into, in the buffet queue. You could be impressing a future investor of your start-up as you devour the delicious canapés.
Leverage all social media channels to connect with people occupying positions in companies that you desire, garnering skills that complement your achievements and being exposed to a corporate culture that you find ideal. Reach out to your connections and their connections on Linkedin that fulfill all these checks of job search. During the party-do not be reticent to meet contacts of your family relatives or friends who share your career interests or belong to the industry that you aspire to be a part of. Provide explicit and clear details to them regarding your current role and achievements.
Obtain immediate and customized resume feedback on the VMock SMART career platform. An online resume review program, VMock is an intuitive tool that relies on artificial intelligence, data science and natural language processing to cater to the individuality of each student.
The system evaluates the resume on critical parameters including how distinctly you reflected your core competencies. The application provides guidelines and details through specific examples, how you can demonstrate key soft skills –'communication', 'leadership', 'teamwork' and 'initiative' through your resume.
Witness noticeable improvement in the quality of career guidance that has so far been adopted by leading schools from across the globe like: INSEAD, Stanford, Yale, Wharton, Chicago Booth, Kellogg and several others.
VMock wishes you a Happy Thanksgiving 2016!